Curriculum
The SBCC ADN Program is approved by the California State Board of Registered Nursing and accredited by the Accreditation Commission for Education in Nursing (ACEN). The curriculum is based on a conceptual framework and unifying elements that include: Jean Watson's Caring Science and Healing model, Maslow's Theory of Basic Human Needs, Knowles Adult Learning Theory, Mastery Learning Theory, the Nursing Process, Erikson's Developmental Stages, and Critical Thinking and Clinical Judgment.
ASSOCIATE IN SCIENCE DEGREE—NURSING COURSES
To view the current Associate Degree Nursing Course and General Education requirements, please click on the following link and look for Nursing and click on AS.
Associate Degree Nursing Curriculum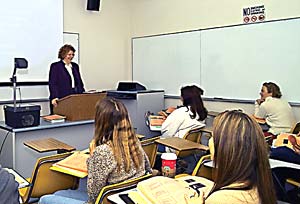 Graduation Requirements:
(1) Complete each required course in the ADN Program with a minimum grade of "C" or better; (2) Complete at least 18 units of general education requirements; (3) Complete a total of 60 degree-applicable units; (4) Maintain a cumulative GPA of 2.0 or better in all units attempted at SBCC; and (5) Maintain a cumulative GPA of 2.0 or better in all college units attempted. Candidates for an Associate Degree are expected to complete 45 units at SBCC, or complete the last 15 units in residence at SBCC.