SBCC Commute
Sustainable Transportation Resources
Electric Vehicle Parking on Campus
There are 12 Electric Vehicle (EV) charging stations on campus and require a SBCC parking permit. Electric Vehicles are part of the colleges sustainability efforts however they do not help reduce the problem we face with single occupied vehicle parking space on campus. We do however, believe it is important to support as many EVs as we can in balance of other parking demands.

Chargepoint stations currently located on campus:

Lot 1-B

Two charging stations, each charging station can charge two vehicles for a total of four vehicles.

Lot 4-C

Two charging stations, each charging station can charge two vehicles for a total of four vehicles.

Lot 4-D

Two charging stations, each charging station can charge two vehicles for a total of four vehicles.

Auto Quad

One charging station that charges two vehicles - This station is for district-owned vehicles only.

Check Charge Point. ChargePoint is the world's largest and most open electric vehicle (EV) charging network with over 26,300 locations.

For all charging stations on campus the hours of operation are from 6:00 AM to 11:00 PM.
The machines will be shut off between the hours of 11:00 PM to 6:00 AM.

Lot 1-B will have a message under helpful hints stating Staff, 6:00 AM to 11:00 PM, Students after 5:30 PM.
Lot 4-C will have a message stating, Students Only 6:00 AM to 11:00 PM.
Lot 4-D will have a message stating, Available to the community after 10:30 AM.

The pricing structure will be the same for all charging stations and it is as follows;

.20 cents per kilowatt hour for the first four hours. To calculate the cost for that rate the formula is .20 cents per kilowatt hour X 6.6 kilowatts of energy per hour, (amount of energy our machines put out) equals $1.32. If a vehicle charges for four hours the cost of electricity to the customer is $5.32

After four hours of charging the user will receive a text or email, (depending on how they choose to be contacted by) informing them that they have 30 minutes to move their vehicle or they will begin to occur a parking fee of $2.00 per hour on top of the .20 cents per kilowatt hour. That means that if they continue to be plugged in for another 2 hours, (after the 30 minute alert) then they will incur a cost of .20 cents per kilowatt hour X 2 hours = $2.26 plus an additional $2 an hour for two hours, (parking fee), which equals $6.26.

In addition, if a vehicle reaches a full charge then the customer will receive another email or text letting them know that they have 30 minutes to move their vehicle or they will receive a citation. An email will also be sent to Campus Safety at

safety@sbcc.edu

informing the Safety Department that a vehicle at a certain charging station is eligible for a citation, and to allow for other users to have access to charge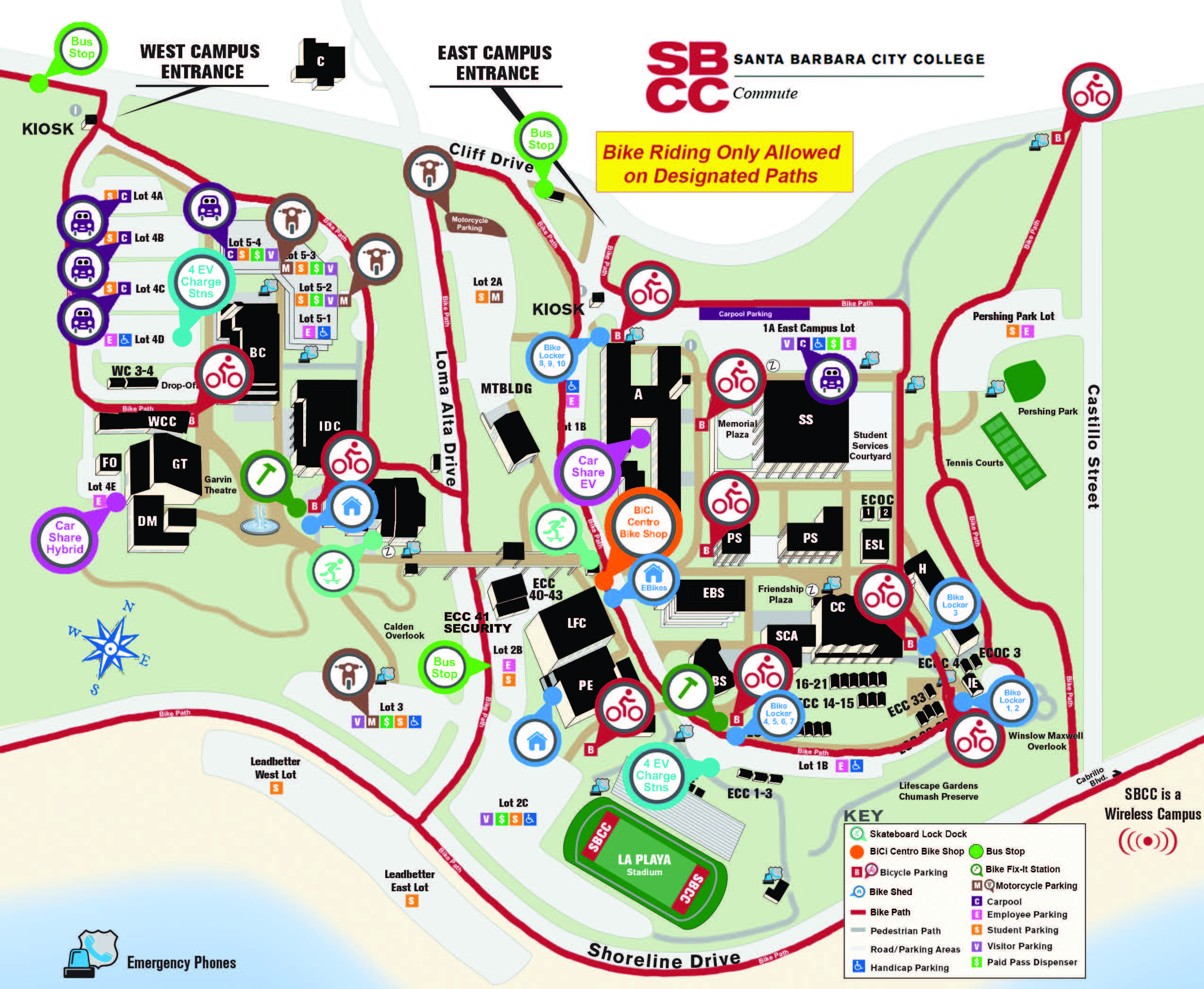 Download the above SBCC Transportation Map showing the bike lockers, DIY, bike lanes and storage.
Hey Skaters! Skateboard docks are located at the Campus Bike Shop and LRC. The Campus Store sells locks if you need one!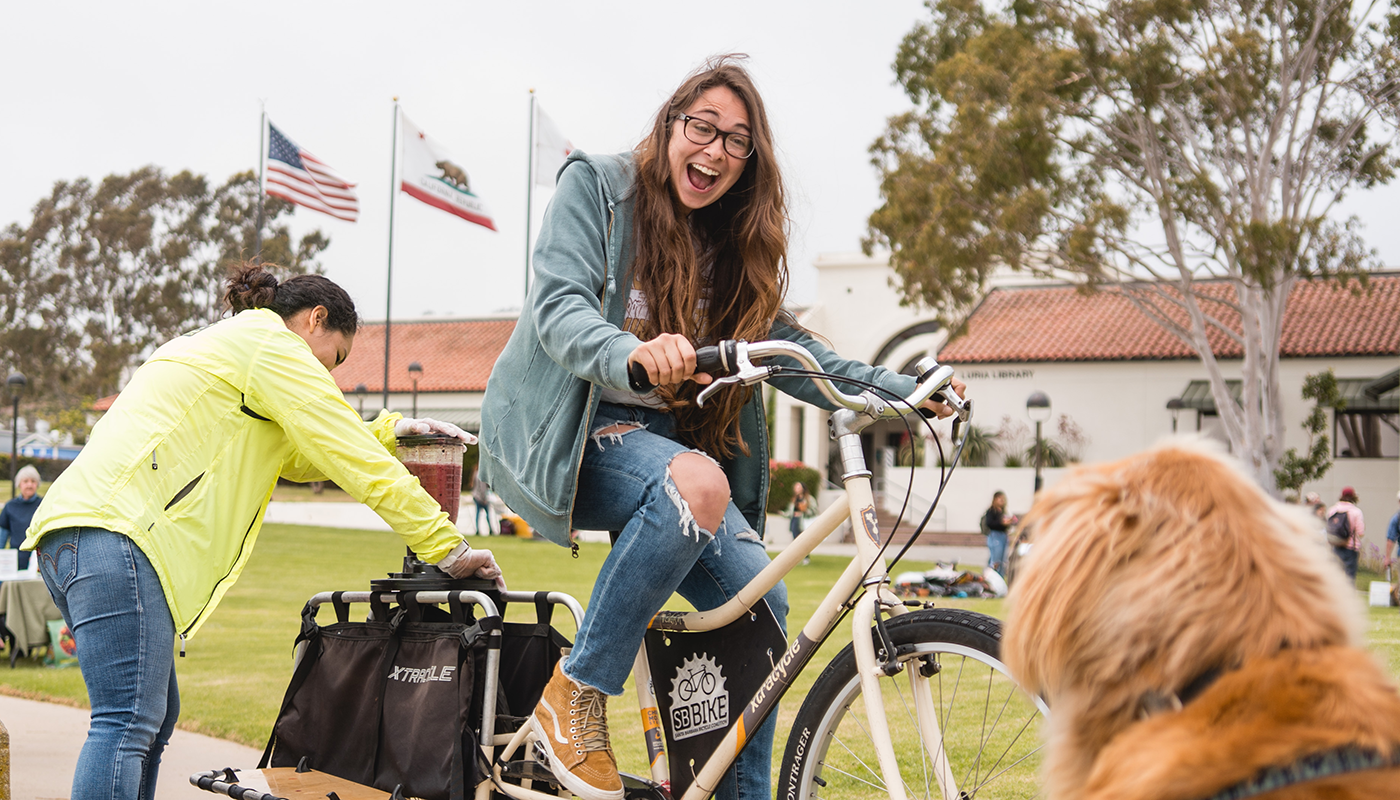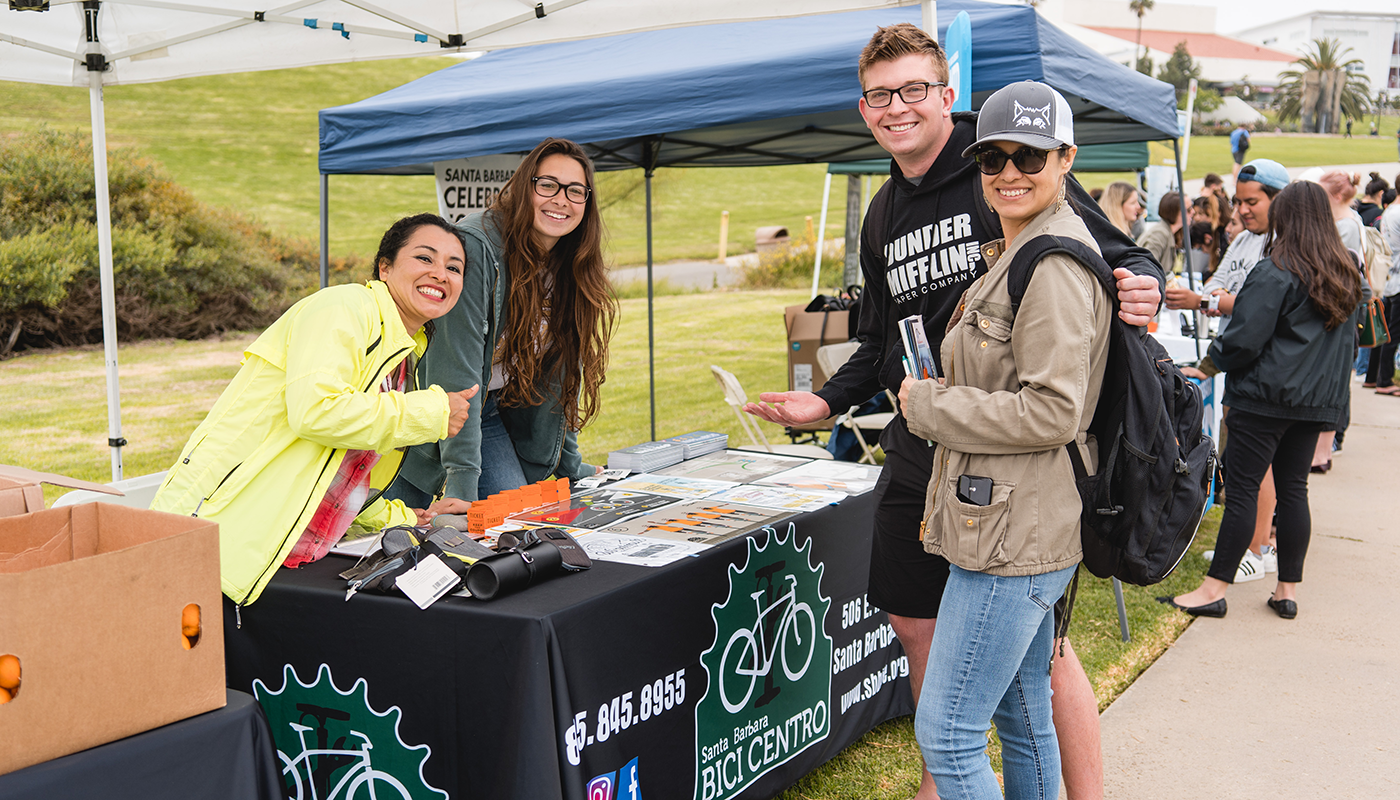 Campus Commuter Resources
Carshare

HOW TO GET STARTED:

Confirm you are a current staff member and are sustainably commuting to campus.

Get Approved as a District Driver (Employees only). In order to operate a district vehicle you must be an approved district driver and an SBCC employee

. Employees must register as a district driver to use any college vehicle. Please contact Luis Geraldo in the Facilities & Operations Department (ext 2296) to begin the approval process..

The process can take up to two weeks to become an approved driver. Please plan accordingly.

Email

commute@sbcc.edu for car reservations

CAR INFORMATION:

CarShare (Electric/Hybrid District Cars). There are two available for Employee personal use during the day. An electric or hybrid vehicle can be reserved for 2 hrs at a time during 8am– 4pm Monday –Friday. Overnight or extended use is permitted by the Assistant Superintendent / Vice President of Business Services.

The hybrid Ford CMax #80 is on the West campus with key check out through Facilities & Operations Building.
The electric Ford Focus #81 is on the East campus with key check out through Administrative Services A120.

These vehicles are not intended for regular use - email

Facilities@sbcc.edu to reserve college vehilces for college business or call (Ext 2296).
These vehicles are for employees who commute to campus and need the car for daytime use as part of their incentives for doing so.

Electric Bikes for Check Out

SBCC has experienced budget cuts that have affected the replacement of all campus Ebikes for staff use. There are only a few assigned out to staff at this time. You may email commute@sbcc.edu for more information.

The remaining Ebikes will be used until they expire and will not be replaced by the District.

All remaining Ebike users are required to store the bike inside over night, lock it when not in use, and use a helmet at all times.

5/week users have priority
3/week users have next priority
1-2/week users may be asked to rotate, share or return an ebike to participants who ride more
Use of Ebikes are a priveledge not a right
Replacements of lost or damaged ebikes will not be made
We expect you cover and/or secure the Ebikes at all times when not in use (do not use bike racks on campus). Use Campus Bike Sheds,
Office or Bike Lockers storage on campus, and secured at home.
Complete the electric bike safety course (through SBCC Bike Shop located adjacent to East Campus Bridge).
Contact SBBIKE Education Director <edu@sbbike.org> to schedule a safety course. Also let commute@sbcc.edu know when you complete the course.
Complete the SBCC electric bike share loan agreement form. Return the Waiver Form to commute@sbcc.edu.

HOW TO RESERVE A BIKE LOCKER:

NEED TO SHOWER?

Shower facilities are located in the Physical Education building, email commute@sbcc.edu or visit the Cage in the PE Building next to the restrooms. You must be a current staff or student to get shower access and report your daily commuting.

Location of skateboard racks at the Campus Bike Shop and the Library; bring your own lock or buy one at the Campus Store.
More Commuter Information
Check out bike routes from downtown Santa Barbara to SBCC.
Commute History
SBCC Commute is a program supporting the colleges' Transportation Demand Management Plan (TDMP) and the Districts Sustainability Plan. SBCC is commited to the betterment of health and sustainability in our community.
Since 2014 through 2020, the SBCC Commute program had reduced Single Occupied Vehicle (SOV) use by 13%, expanded infrastructure, added a DIY bike shop, and increased the number of stakeholders that commute sustainably.

The Commute Program is no longer offering cash incentives to staff to commute sustainably to campus. Nevertheless, the Campus infrastructure remains in place such as adequate motorcycle and bike parking, bike lockers, on campus showers, EV parking, variety of MTD to SBCC routes, skateboard racks, and always supporting carpooling.
Please stay safe, and stay committed to sustainable commuting!

Contact Us