Faculty Resource Center
For Faculty questions, please email the FRC team at
frc-group@pipeline.sbcc.edu. If you have a canvas question, please include your CRN or a link to your course.

Or you can fill out our Support Form and one of us will get back to you ASAP.

SBCC Non-Credit has a separate resource page here.

The FRC is located in ECC40 (next to Security). We are open for drop in 9am-4pm M-F. If you want to meet 1-1 with an FRC staff member appointments are encouraged.

We have 5 Macs and 5 Windows computers for faculty use. We have a recording room with a 360 camera station, and an eglass station. email us for training and reservations.

Our training, and other flex opportunities, are all hosted in the Vision Resource Center (VRC).
Fall 2023 Training Calendar
We have a lot of new training topics for the Fall term. We now have Respondus for online proctoring, new small canvas updates, new AI tools to share, a new portal called My SBCC, and more tools for Online Course Design. We also have a new EdTech Tools page that will be helpful in knowing what tools we have available to faculty and students at SBCC.
Keep and eye here for training dates, you can also sign up for live training in the Vision Resource Center. All recordings are now on the training videos page.
CVC/OEI information
What is the CVC/OEI?
The California Virtual Campus – Online Education Initiative (CVC-OEI) is a collaborative effort among California Community Colleges (CCCs) to ensure that significantly more students are able to complete their educational goals by increasing both access to and success in high-quality online courses.

What is the Course Design Rubric?
The rubric can be found here. The Rubric is used by the CVC/OEI to review courses and "badge" them when fully aligned. A badged course will show higher is students course searcher when looking for courses that are not at their home college. You can view this search system here.
How to I get my course aligned?
Contact the FRC using the form linked at the top of this page. We offer Rubric training every spring and fall depending on demand. The course generally meets every other week for 8 weeks, with personal check-ins in between.
What We Do
Mission: The mission of the SBCC Faculty Resource Center (FRC) is to provide instructional consultation and support to educational program faculty and departments so that students can successfully achieve their course and institutional student learning outcomes (SLOs).
The FRC serves the mission of the college by providing the following services to faculty and staff: (See the PDF to read the FRC's SLOs).
Pedagogically-focused training - Training that focuses on teaching strategies for on campus (including smart or technology equipped classrooms) and online classes. We offer training in a variety of tools geared toward teachers' skill levels, goals, and interests. Take a peek at our technology planning matrix.


Consultation and advisement about teaching strategies, technologies' selection, and creation of universally-designed course materials – Probably the most important service we offer is planning and consultation. Our job is to listen to your needs and goals and provide advice about how to proceed. Sometimes that includes technology solutions but it always includes pedagogical strategies. So don't be bashful, email us at frc-group[at]pipeline.sbcc.edu


Instructional Materials Development - includes video/audio taping and editing. We also provide instructional design and technology expertise to create your materials. See our Faculty Showcase to see some of the FRC/faculty projects where we've provided instructional design and development support.


Exploration of new technologies for teaching in the classroom - This includes new mobile and web technologies, etc.


Leadership in making recommendations to faculty and administration - We participate in educational program workgroups and Academic Senate committees.
Map to FRC
Location and Hours of Operation: Our hours of operation are: 9 am to 12 noon and 1 pm to 4:30 pm, Monday through Friday Location: ECC-40 (see map below) Department email: frc-group[at]pipeline.sbcc.edu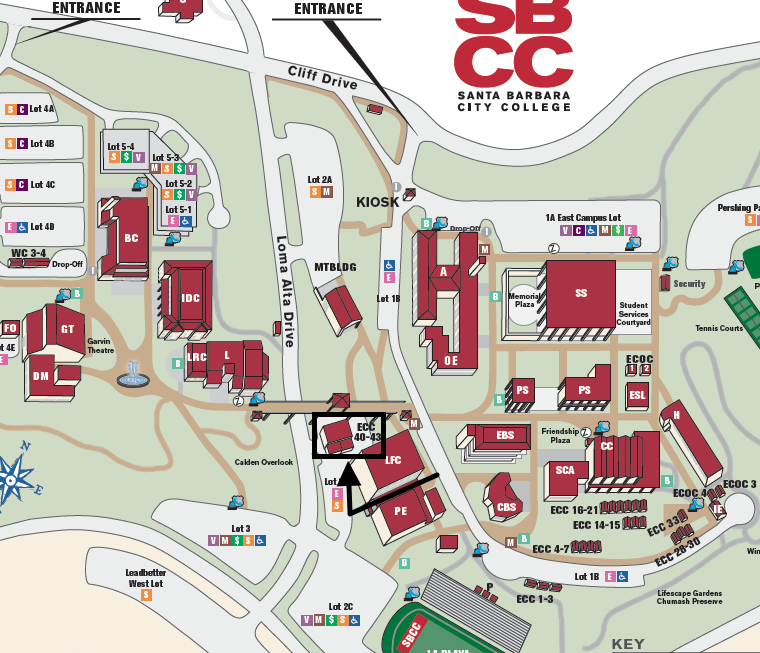 Faculty Resource Center (ECC-40 next to Security) below pedestrian bridge
.