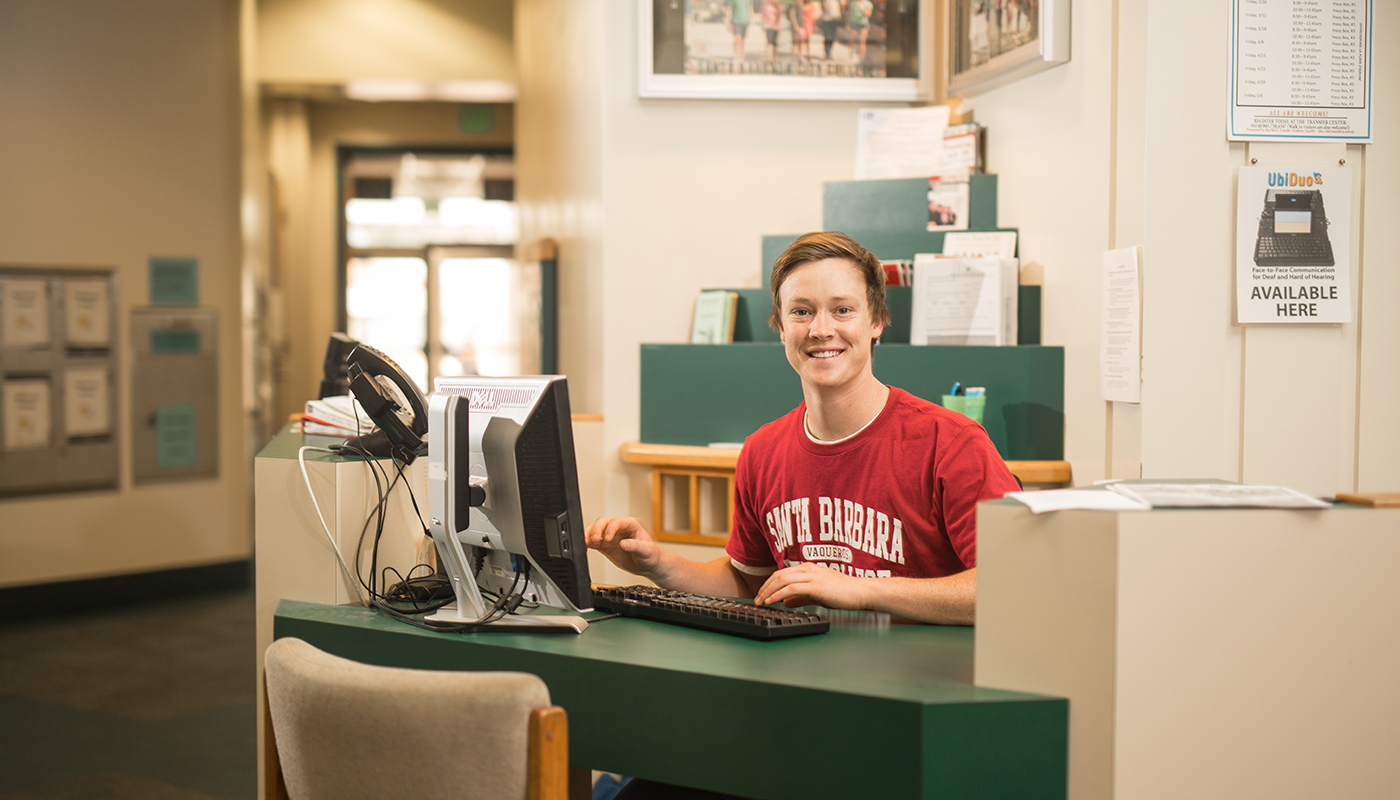 Cashier's Office
COVID-19 UPDATE: The Cashier's Office is

OPEN FOR REMOTE SERVICES

. All in-person services are closed until further notice. The Cashiers office is available by telephone and email communications. Please include your student ID (K#) for faster service. We will answer all inquiries in the order in which they are received.
Mission: The Cashier's Office seeks to provide quality service in an efficient, professional and timely manner to Santa Barbara City College students, faculty, staff and others who make up the campus community in accordance with our mission to provide a diverse learning environment and opportunities for students to enrich their lives, advance their careers, complete certificates, earn associate degrees, and transfer to four-year institutions. The College is committed to fostering an equitable, inclusive, respectful, participatory, and supportive community dedicated to the success of every student.
Service: At the Cashier's Office, we collect, accurately record and deposit all monies due to SBCC. We assist our students in interpreting their student bill and managing their account balances.
Monday and Thursday - 8:00am to 4:00pm
Tuesday and Wednesday - 8:00am to 6:00pm
Friday - 8:00am to 1:00pm (See "Special Office Hours" for extended January hours)



Include your student identification number (K#) in your email.

Email communications should be sent by, and will be responded to, the student's pipeline email account. Communications received by a personal, unsecured email address may not be addressed.

805-730-4197

From any on-campus phone, dial X2397

Voicemail: If you receive our voicemail, kindly include your student ID (K#) and a return phone number in your message. Voicemail messages will be returned within 48 hours, Mondays through Fridays. Calls without a voicemail message will not be returned.

Alternatively, you may email us at cashiers@sbcc.edu

805-897-3576

Located at Student Services Building, Room SS-150

Brittany Herrera
Accounting Technician III | baherrera1@pipeline.sbcc.edu
Parking Citation Payments
Trust & Club Fund Deposits

Sandy Ly
Accounting Technician III | ly@sbcc.edu
District Deposits
Reconciliations

Ana Carter
Accounting Technician III | apcarter@sbcc.edu
Third Partying Billings
Retiree Health Benefits Billings
Childcare Billing for Orfalea Early Learning Center

Located at Administration Building, Room A-130

Student Refunds

Veteran Benefit Payments

Trust & Club Fund Management

Changes in Office Hours:

All Administrative and Student Service offices will closing early at 3:30pm on Wednesday, February 12th.

We will be closed on February 14th and 17th in observance of Lincoln's and Washington's birthdays'.
| | |
| --- | --- |
| Student Financial Responsibility Agreement | The Student Financial Responsibility Agreement is signed by each student on a semesterly basis at the time of initial registration. Please review the agreement at any time during your semester to understand the expectations and responsibility to which the student is expected to adhere. |
| Tuition and Fees | Enrollment fees for the current semester, as well as definitions of each fee, can be found here. Additionally, past enrollment year tuitions are listed. To calculate your anticipated costs for an upcoming school term, including costs associated with enrollment but not charged directly to the student, please review your "Cost of Attendance" on the Financial Aid website. |
| Pay My Bill | There are numerous ways students may pay for their student enrollment costs. Please visit this page for a detailed outline of opportunities. |
| Payment Plans | Students may register for current term payment plans or to enroll in a payment plan for their outstanding student account balances in order to allow continued registration. |
| Student Account Holds | Students accounts may have holds placed for myriad of financial reasons, including but not limited to: outstanding balances due to SBCC for enrollment, parking citations, library fines. Additionally, students may have holds placed on their account for non-financial reasons, such as Dean's Holds, academic counseling holds, etc. Please visit this page for more information on all student account holds. |
| Refunds | Refunds are not automatic. Refunds may be requested by completing a request found on this website. Visit this page for more information on refunds and the form to request your refund. Be sure to update your current mailing address in pipeline before requesting a refund. For faster and more secure refunds, sign up for direct deposit! |
| Fee Exemption Requests | Under certain circumstances, students may be eligible to opt out of a fee. Please visit this webpage for more information and the forms to request such exemptions. |
| IRS Form 1098-T | SBCC issues a 1098-T to students annually, in January, for tuition and payments made in the prior calendar year. Visit this webpage to understand how to review your 1098-T, whom to contact if your information is not correct and how to assess any tax deductions for which you may be eligible. |
| Parking Permits | Parking permits are managed by Campus Safety are only available online. Please visit this webpage for more information on purchasing your permit, where you may park and how to pay a citation, if you have received one. |
| CampusCard | CampusCards are available for pickup in the Office of Student Life. Students and guests may use the CampusCard as a "debit card" at school vendors. For more information about the benefits of using your CampusCard, please visit this webpage or contact Office of Student Life for more information. |
Student Services Building
1st Floor - Room SS-150
Ext. 2397
8 a.m. – 4 p.m.
Tuesday
8 a.m. – 6 p.m.
Wednesday
8 a.m. – 6 p.m.
Thursday
8 a.m. – 4 p.m.
Friday
8 a.m. – 1 p.m.