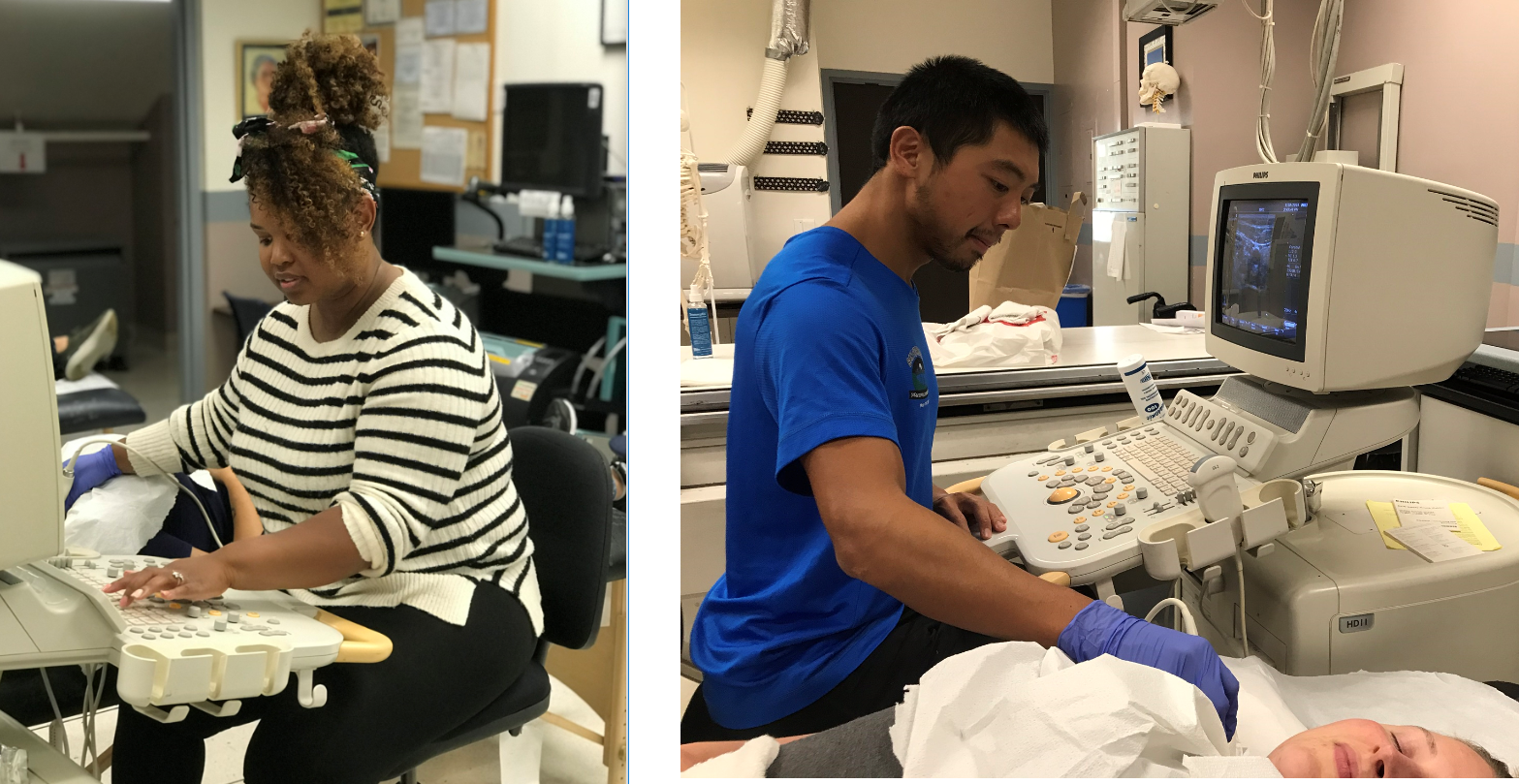 Diagnostic Medical Sonography Program
About Our Program
Notice: As of August 1, 2020, the sonography program at SBCC has requested to be placed on "inactive" status with the Joint Review Committee on Education in Diagnostic Medical Sonography (JRC-DMS). At this time, we are not convening a new cohort of students into the sonography program.
NOTICE: Effective November 13, 2019, the Medical Imaging department has put a hold on accepting new applications until further notice. The wait list has grown to 60 students at this time.
Diagnostic Medical Sonography (DMS), sometimes referred to as ultrasound, is a diagnostic medical procedure that uses high frequency sound waves (ultrasound) to produce dynamic visual images of organs, tissues, or blood flow inside the body.
It is also used to guide needles during biopsies when samples of cells from organs are collected for lab testing (i.e. test for cancer in breast tissue). Unlike x-rays, sonography is a radiation-free imaging modality.
The mission of the Certificate in Diagnostic Medical Sonography is to educate and prepare students to become qualified and competent entry-level general* sonographers in the cognitive (knowledge), psychomotor (skills), and affective (behavior) learning domains, and to serve the needs of a diverse patient population in an ethical and compassionate manner while inspiring continuous learning.
Program Goals:
Graduates will be clinically and technically prepared to enter the current job market.
Graduates will communicate effectively in the work care setting.
Graduates will demonstrate the ability to perform and identify normal anatomy and pathology for the following examinations:

The Abdomen
Superficial structures (Breast, Scrotum, Prostate and Thyroid)
Non-cardiac chest
Gravid and nongravid pelvis, both transabdominal and transvaginal
*This program is accredited for the General Learning concentration only, which includes the exams mentioned above. While our program touches on vascular exams, we are NOT accredited for the Vascular Learning Concentration.
Job Opportunities
Sonography is being used increasingly in acute care hospitals, imaging centers, and physicians' offices; it is used in all medical specialties.

According to The California Employment Development Department, the number of Diagnostic Medical Sonographers is expected to grow much faster than average growth rate for all occupations. Jobs for Diagnostic Medical Sonographers are expected to increase by 25.9 percent or 1500 jobs between 2016 and 2026.
Accreditation
The Diagnostic Medical Sonography Program at Santa Barbara City College is accredited by the Commission on Accreditation of Allied Health Education Programs (CAAHEP) upon the recommendation of the Joint Review Committee on Education in Diagnostic Medical Sonography (JRC-DMS).
CAAHEP mailing address:
25400 US Highway 19 North
Suite 158
Clearwater, FL 33763
Phone: 727-210-2350
Faculty and Offices
Bruce Oda, MAOL, R.T.(R), Department Chair
Department Offices
Health Technologies Office (A-218, ext. 2366)
Dean: Alan Price (A-218, ext. 2366)
Administrative Support: Lorraine Michalak
Information for Prospective Students