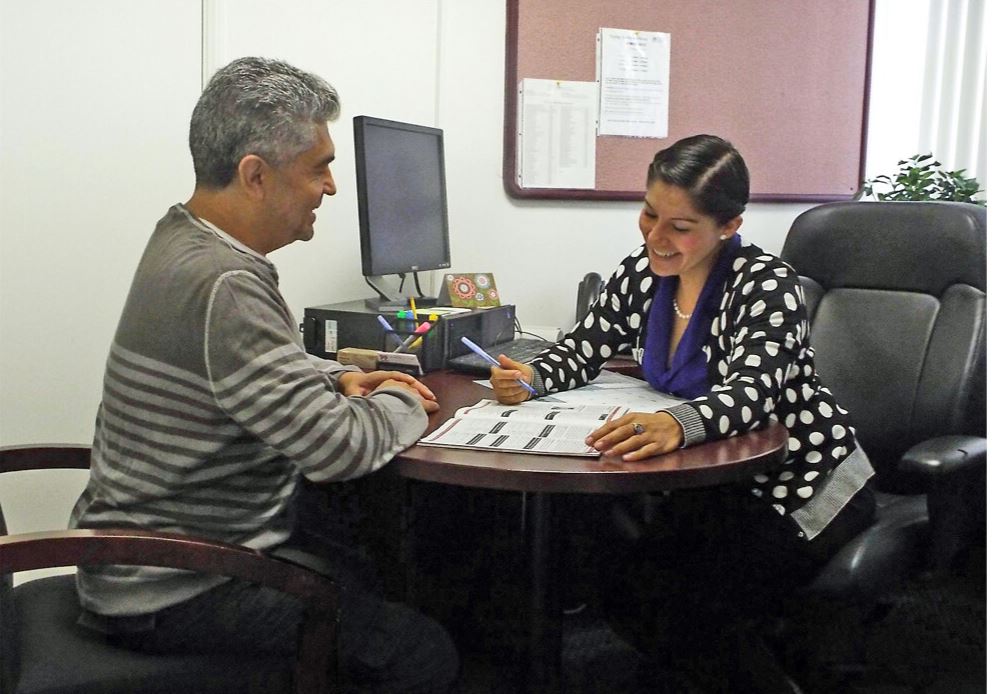 Ready.Match.Hire!
Welcome to Ready.Match.Hire!TM
Congratulations on taking the first steps towards achieving your personal and academic goals. We have all been through a lot of unexpected changes, but now have the opportunity to make different choices that will lead us into a better place. We as a college and as a department are here to support you in whatever way possible to create a positive change in your life. We'd like to build a partnership and walk alongside you on this journey of the unknown to discover the possibilities for your life. We welcome you back and we are excited to meet you so please come into our Student Support Services front office to get started!
The Ready.Match.Hire!TM Team
Bienvenidos a Ready.Match.Hire!TM
Felicitaciones por dar los primeros pasos hacia el logro de sus metas personales y académicas. Todos hemos pasado por muchos cambios inesperados, pero ahora tenemos la oportunidad de tomar diferentes decisiones que nos llevarán a un lugar mejor. Nosotros, como colegio comunitario y como departamento, estamos aquí para apoyarlo de cualquier manera posible para crear un cambio positivo en su vida. Nos gustaría construir una asociación y caminar junto a usted en este viaje de lo desconocido para descubrir las posibilidades de su vida. Le damos la bienvenida nuevamente y estamos emocionados de conocerlo, así que por favor, venga a la oficina principal de Servicios de Apoyo al Estudiante para comenzar.
El equipo de Ready.Match.Hire!TM
Ready to make your appointment/Listos para hacer su cita
Career Counseling Services:

Career Assessment (interests, values and goal setting)
Resume writing and review
How to write a cover letter
LinkedIn Profile and how to utilize LinkedIn
Job Search Strategies/How to apply for positions
How to Network and Tips to maintain a professional network
Interview Coaching and Preparation
How to negotiate salary and evaluate job offer

Servicios de Asesoramiento de Carrera:

Evaluación de carrera (intereses, valores y establecimiento de objetivos)
Ayuda de curriculum y revisión
Cómo escribir una carta de presentación
Perfil de LinkedIn y cómo utilizar LinkedIn
Estrategias de búsqueda de empleo / Cómo solicitar puestos
Cómo establecer contactos y consejos para mantener una red profesional
Entrenamiento y preparación de entrevistas
Cómo negociar el salario y evaluar la oferta de trabajo
Mission: The mission of Ready.Match.Hire! from the School of Extended Learning is to provide our diverse adult population with opportunities that assist with exploring career options, job search preparation, and career advisement. Our goal is to meet the career needs of each individual in a supportive environment.
Vision: The vision of the employment center (Ready.Match.Hire!) is to prepare and empower students for a meaningful career that will enhance their quality of life and increase economic livelihood.
-------------------------------------------------------------------------------------------------------------------------------------------------------------------------------------------------------
Misión: La misión de Ready.Match.Hire! de School of Extended Learning es brindar a nuestra diversa población adulta oportunidades que ayuden a explorar opciones profesionales, preparación para la búsqueda de empleo y asesoramiento profesional. Nuestro objetivo es satisfacer las necesidades profesionales de cada individuo en un entorno de apoyo.
Visión: La visión del centro de empleo (Ready.Match.Hire!) Es preparar y empoderar a los estudiantes para una carrera significativa que mejorará su calidad de vida y aumentará su sustento económico.