Staff Recognition
Outstanding Classified Employee of the Year
The criteria for selection is based upon an employee's outstanding service to the Santa Barbara City College campus community. Relevant activities include serving on campus committees, involvement in community service, participation in professional and personal growth classes and workshops, professional organizations and volunteer commitments.
2018 Outstanding Classified Employee of the Year:
Sherie Higgins
Administrative Assistant II to the
Dean of Educational Programs - Career Technologies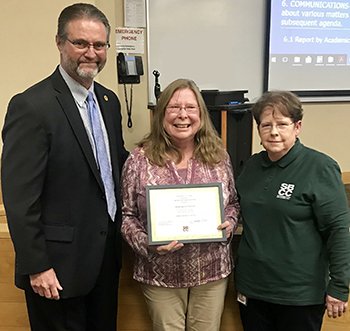 2018 Outstanding Classified Honorable Mentions:
Victor Bryant
Catalog/Schedule Specialist, Scheduling Office
Jason Levy
Tutorial Center Coordinator
Jeff Barnes
Technology Specialist, Faculty Resource Center

Regina Reese
Lab Teaching Assistant, Learning Resources Center
Congratulations to all honorees.
Click here to read the press release.

---
2017 Classified Employee of the Year
Josue Miranda
LTA Automotive Services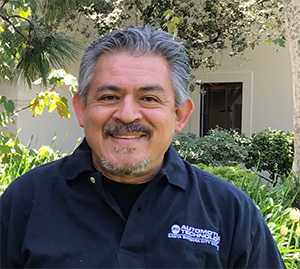 2017 Classified Honorable Mentions:

Loretta Chapin
Program System Support Specialist

Christina Lomeli
Student Program Advisor, Dual Enrollment Program

Bianca Waaler
Admissions and Records Technician

Lorraine Valenzuela
Security Coordinator

---
Classified Employee of the Year Recipients 1983 - 2016
| | | |
| --- | --- | --- |
| 1983 | Bill Harz | Earth Science |
| 1984 | Rob Reilly | Information Office |
| 1985 | Barbara Armstong | Business Office |
| 1986 | Merv Kerr | CE-Facilities & Operations |
| 1987 | Nancy Hull | Chemistry |
| 1988 | Peter Raschke | Drama/Music |
| 1989 | Jane Marsh | Business Services |
| 1990 | Helen Wilden | Bookstore |
| 1991 | Alma Leadbetter | President's Office |
| 1992 | Don Ion | Physics |
| 1993 | J.P. Dupart | Facilities & Operations |
| 1994 | Bill Hull | Biology |
| 1995 | Carlos Ramirez | Security |
| 1996 | Bill Regis | Library |
| 1997 | Stella Castellanos | Human Resources |
| 1998 | Anita Bradford | Information Technology |
| 1999 | Deanna Gregg | English / Math |
| 2000 | Margaret Okinaka | Accounting |
| 2001 | Madeline Burridge | Health & Wellness |
| 2002 | Chris Miller | Duplicating |
| 2003 | Patty Ontiveros | Telephone/Mail |
| 2004 | Jason Thornell | Information Technology |
| 2005 | Sandy Allain | School of Culinary Arts |
| 2006 | Shar-Lynn Timm | Human Resources |
| 2007 | Richard Macabio | Auxiliary Accounts |
| 2008 | Rosemary Santillan | International Students |
| 2009 | Leilani Browne | Human Resources |
| 2010 | Arnold "Dave" Gowans | Computer Science |
| 2011 | Olga Gonzales | Information Technology |
| 2012 | Argelia Aguilera | CE - Wake |
| 2013 | Raquel Alvarado | ESL |
| 2014 | Elizabeth Stein | Career Tech |
| 2015 | Jesse Valentine Felix | Community Services |
| 2016 | Robert Brown | Faculty Resource Center |
| | | |
Back to top